hey, loves!
i've been on a reading kick lately (i'm twelve books ahead of schedule on my goodreads challenge!), so i put together this fun book-themed tag. i decorated my bookshelf with some fairy lights and succulents to make my pictures look extra cute and everything.
also, happy late valentine's day! i spent the afternoon hanging out with my musical friends, then went shopping with my bff. and my school does candygrams on holidays (you pay $1 and clubs will deliver little heart-shaped cards with candy attached to whoever you want), and i got one?? i was so shocked, and it was from exactly who i wanted it to be from, so overall it was a pretty great day. :)
anyway — the tag!
---
1) how often do you read?
pretty much every day. i take a book (or several) with me everywhere i go: school, church, car rides, etc. i read whenever i get the chance, even if it's just one page while i'm walking to class.
my friends (and some teachers) at school tell me that i have a new book every time they see me, and they're not wrong.
2) do you read or write fanfiction?
oh boy, no. i've never been one for fanfiction. i don't see the appeal in writing it, because when i write, i want my own characters and my own story. i don't want to leach off of someone else's imagination. and i don't read fanfiction, either, because i've heard that most of it is really bizarre stuff, or not good quality.
3) how do you organize your books?
just like everything else in my room, my bookshelf is organized by color! the rainbow gradient is the most colorful, happy part of my space.
i've thought about organizing my series separately, maybe putting them all on the bottom shelf so they're easier to find. but that would mean ruining my rainbow, so i don't know.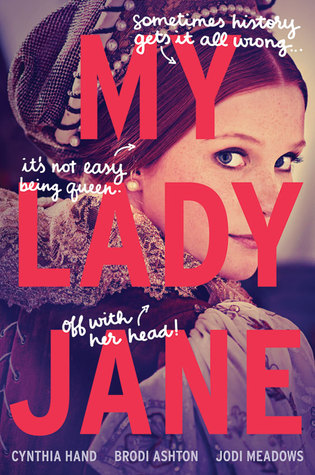 4) what are you currently reading?
my lady jane by cynthia hand, brodi ashton, and jodi meadows. i think writeowl recommended it to me? it's historical fiction with some magic thrown in, and i'm about halfway done with it right now. i'm enjoying it, but i find it a little hard to get into sometimes.
5) what is your favorite genre?
to read, emotional contemporaries or magical realism/fantasy. as for writing, i used to come up with a lot of fantasy stories, but right now i'm mainly interested in poetry.
6) how many books are on your TBR list, and what's the newest addition?
right now, i have 264 books on my TBR list, which isn't actually that bad, i don't think. and my most recently added book is #neveragain: a new generation draws the line by david and lauren hogg. it's nonfiction, and about two siblings who survived the parkland shooting last year. since i've never been good about keeping up with the news, i don't know that much about the shooting, other then that it sparked a huge political debate about gun control. but i want to learn more, and i figured that i should start with reading about what actually happened.
7) pick a book with a cover that's your favorite color
my favorite color is maroon, and out of all the books i own, the battle of the labyrinth is closest to that. i found my copy at an almost otherworldly book store in pennsylvania a few years ago.
8) paperbacks or hardcovers?
paperbacks. they hold two stories: the one written in ink, and the one written in the crinkled, folded pages. the one written by the author, and the one written by the reader. there's just something more intimate about them, i think.
also, i like that they're lighter and easier to hold or slip into my backpack.
9) do you own any signed books?
just two, i think. one is a copy of sarah j. maas' a court of thorns and roses that i found at a thrift store, and the other is the prophet, the shepherd, & the star by jenny l. cote. she did an author talk at my co-op when i was in elementary or middle school, and she signed it for me there.
10) where do you usually get your books?
the library, mostly. the public one has a fairly large collection of YA novels, plus an indecently enormous children/MG section, and then my school's library has a surprising amount of interesting books.
if it's not from the library, chances are that whatever book i'm reading was either borrowed from a friend or found at a thrift store.
11) what books have you read this month?
i've finished seven so far: four novels, one nonfiction book, one collection of poems, and one graphic novel. my favorites are dear evan hansen by val emmich and crush by richard siken (thanks for the recommendation, ellie!).
---
if anyone wants to do this tag on their own blog, please go right ahead! just link back to this post if you do.
what are you currently reading?
xo apollo